Swimming Lessons
Swimming lesson confirmations are now available to view. Please enter your child's details below.
PLEASE NOTE: 
THE SWIMMING POOL IS CURRENTLY CLOSED FOR REFURBISHMENT.  PLEASE VISIT OUR HOME PAGE FOR FURTHER INFORMATION... 
Haileybury Sports Complex operates a professional swimming school with all its instructors being ASA level 2 qualified.
All lessons are run in line with the public school terms. Payment for lessons is due before the start of term and all pupils currently enrolled on lessons will have priority booking as long as it is done in the specified weeks. Swimming lesson payments differ depending on the length of the term. Each term the swimmers will be assessed for badges**, this is run in accordance to the ASA who set a standard that must be reached.
If you are interested in joining our lessons please contact the Swimming Programmes Co - ordinator, Katy Huckle 01992 706429 or email k.huckle@haileybury.com
Please contact us if you wish to receive feedback about your child and their swimmming lessons.
** Children may not receive a badge every term as each child progresses at a different rate.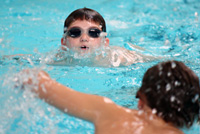 More Swimming Pages