Swimming Facilities
25 metre deck level heated indoor swimming pool
1.2 metres deep in the shallow and 2.0 metres in the deep end
Ideal venue for swimming galas, pool parties, etc.
Swimming lessons from Stage 1/2 to Adults run through the ASA governing body. All Lifeguards, Swimming Teachers, etc. are qualified through the relevant governing bodies.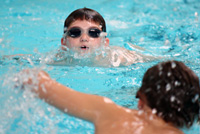 More Swimming Pages